Philly Theatre Week is back, and this year, it's bigger than ever. 
Creative institutions in and around the City of Brotherly Love are gearing up for the 5th annual edition of this arts extravaganza, and with 10 days, 64 organizations, plus 85 shows and events, there is something for everyone. And we mean everyone. 
"Philly Theatre Week continues to be a special time of year when the entire theatre community, from audience, to solo producers to our Center City theatre institutions, get to pointedly celebrate our world class sector," said Executive Director LaNeshe Miller-White in a statement. "We are thrilled to see the ongoing commitment of audiences and producers to make space for this annual event. Our kick-off event marks the first in-person event for Theatre Philadelphia since 2020. We are so excited to be able to gather again with the artistic community."
The curtain officially raises on April 1, but already, the festivities have kicked off with an in-person event on the rooftop garden of the Kimmel Center. 
Miller-White continued, "Philly Theatre Week was originally designed as an exciting annual celebration for arts, culture and theatre audiences. It grew into one of the most anticipated festival-style events to take place in Philadelphia, joining the ranks of Philly Beer Week, Philly Tech Week and Center City Restaurant Week. Now, after the struggles our artistic community has endured over the last two years, this event means more than ever as the region's curtains continue to rise up for live and in-person theatre and performances again. We are thrilled to see so many theatres and organizations reopen their doors and join our line-up. There's so much energy out in the industry about getting back to work and doing what we all love."
Theatre Philadelphia has carefully curated this year's line-up to include a diverse amount of options ranging from cherished classics, experimental theatre, low-budget readings, panels, improv, physical theatre, workshops, in-depth discussions, local voices and more. For art-hungry Philadelphians, this is a chance to support their favorite local theaters still recovering from the pandemic, or, to try out a new theater experience altogether. 
As a release states, participating organizations include a range of professional theaters, academic institutions, community theaters, self-producing artists and small-budget companies. Originating companies hail from every corner of the Philadelphia area — from Center City to the suburbs, from Chester County to Wilmington, and from South Jersey to the Main Line.
A full list of participating performances can be found online, but there are a few highlights worth mentioning.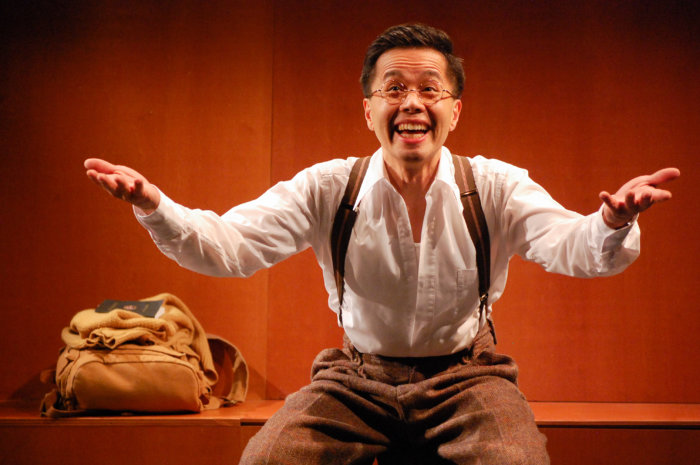 The Trailblazers Collective, an online theater aiming to raise the voices and experiences of marginalized folks, will be showcasing 'The Preacherman' by Cris Eli Blak from April 1-10. This story tells of the bravery of the young men speaking out, and the truth behind what happens behind closed doors—specifically the overlooked stories of abused, young Black men in the church. 
Passage Theatre Company will be showcasing 'Janet Wide Awake: The Hedgepeth-Williams Dream,' an in-person event on April 1-3. A show appropriate for ages 10+, this story follows the historic legal battle of the New Jersey Supreme Court striking down the widespread practice of segregation in New Jersey public schools. People's Light Theater is also hosting an in-person show titled' Hold These Truths' from April 6-9. In this solo production, Steven Eng plays real-life activist Gordon Hirabayashi (and 37 other characters) as Gordon struggles to reconcile his admiration for the U.S. Constitution with the government's 1942 orders resulting in the forced removal and internment of over 120,000 people of Japanese descent. 
The Philadelphia Dramatist Center will be showcasing 'Nowhere/Now here', a virtual event from April 1-9 that is an exploration of place, time, and being, through seven short plays. For comedy fans, Crossroads Comedy Theater will highlight 'Chip Chantry: The Farewell Tour' for one night only on April 1. 
For families looking to spend time together, a few selections include: Acting Naturally Inc.'s 'Fame Jr.'; Brainchild Stageworkx's 'The Ongoing Plight of the Ferryman'; Eastern University Theatre's 'Still Here! Fever Dream Repertory, Inc's Silent Sky'; and Miniball's 'Happy Hour.' 
For those looking for interactive events, check out: Crossroads Comedy Theater's 'Free Improv Jam'; Without A Cue Productions' 'The Golden Girls Murder Mystery: The Curse of Jessica Fletcher'; Miniball's 'Artifacts of No Consequence'; The Gorgeousity's 'Your Gorgeous Future: Philly Edition'; and Die-Cast's 'After The Before Times.' 
Philly Theatre Week will also feature events for industry and professional development, shows featuring strong women, LGBTQ events, productions offering a chance to learn about other cultures, new works and premieres, musicals, classics, experimental theater and even audio experiences. 
As a release states, while exploring the variety of work in Philadelphia's theatre community, audiences will also have the opportunity to make a donation to Theatre Philadelphia's Emergency Relief program, designed to provide financial support for theatre workers and artists whose jobs and opportunities were impacted by the COVID-19 pandemic.
For a full schedule and for Philly Theatre Week tickets visit, phillytheatreweek.com.